Importing Additional Astro Bodies
---
Overview
The Optuma Ephemeris comes pre-installed with most standard astro bodies (Planets, Lunar Nodes, Circle of 8, Mean of 5, etc).
However the Ephemeris can support thousands of additional items such as Dwarf Planets, and Asteroids. (Requires Optuma 2.0 or higher).
Importing
To begin the import process open Optuma and left click the Data menu.
In the menu that appears left click the Import Asteroid option.
In the window that opens, a list of all available astro bodies you can import will be displayed on the left hand side. Anything you have imported already will appear on the right hand side.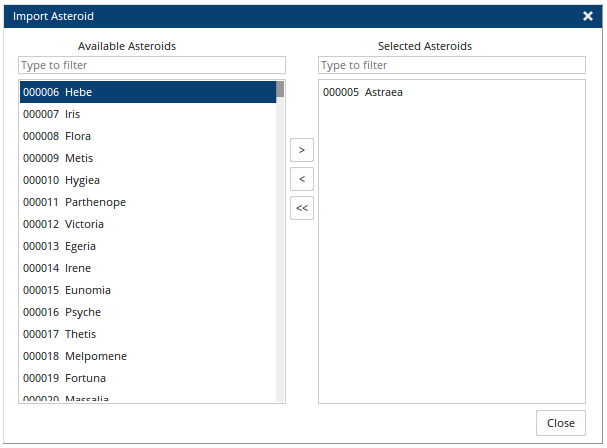 Left click on the item you wish to import. You can also hold down the Ctrl key on your keyboard and left click on several items to import more than one item at a time.
Once your selection(s) have been made, press the button with the right pointing arrow icon.
The import process will begin, with a status bar appearing on the bottom left corner of the Optuma window.
Once the process has completed, the selected items will appear on the right side of the window.
Click the Close button to exit back to your chart. If you open the Ephemeris, or apply an Astro based tool to your chart, the newly imported items will appear under the Asteroids section of the planet selector.