2020 Sector Charts for Australian and US Markets
Australia
The ASX200 index ($XJO) finished 2020 flat (losing just 1.5%) but recovering 50% from the March lows.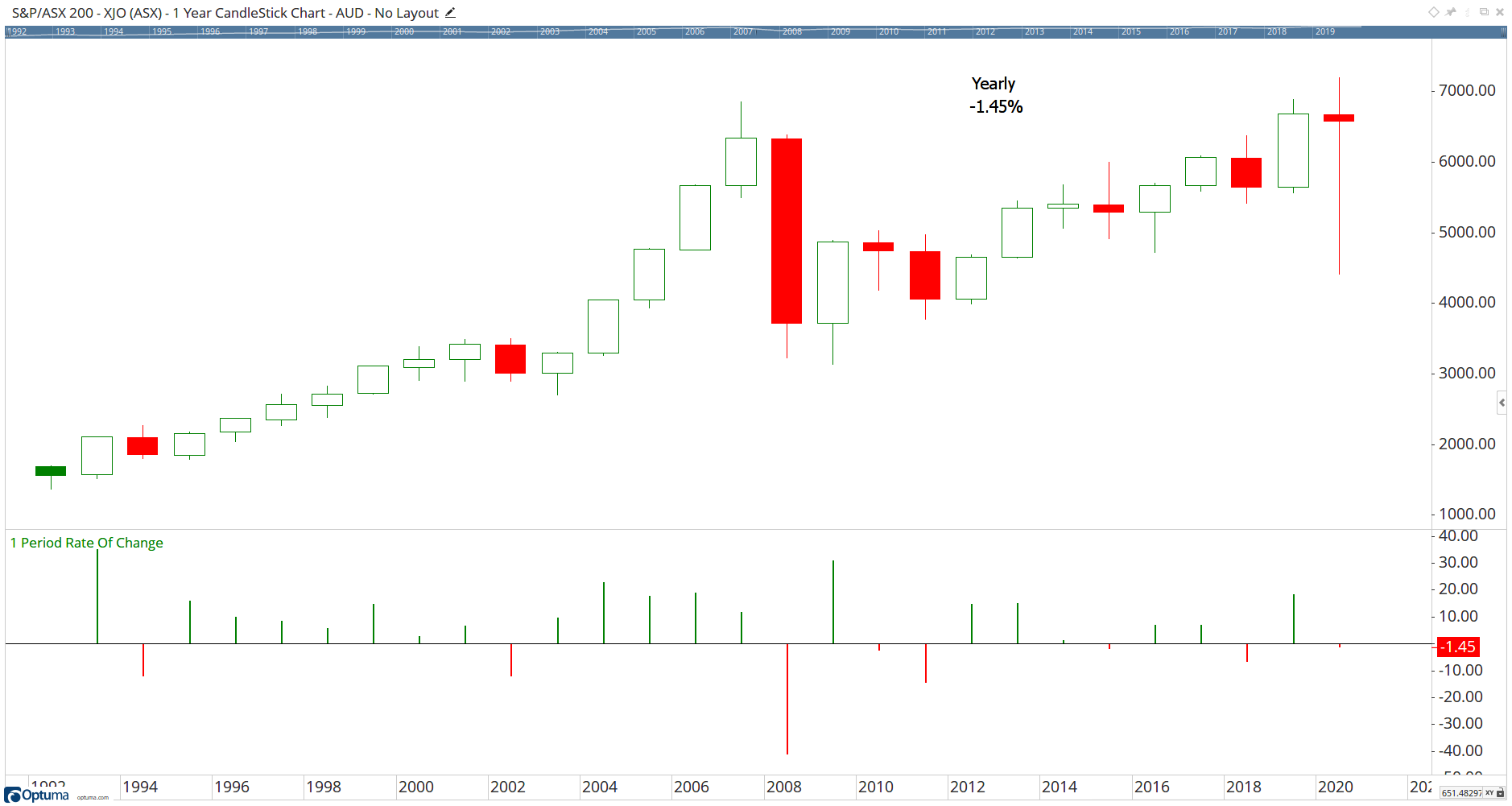 ASX Sectors
The best sector in 2020 was Information Technology ($XIJ) returning 56%, with Energy ($XEJ) losing 30%.
This next Watchlist table shows the performance of each sector by year for the past decade. The ARR% columns show the annual rate of returns over 3 and 5 years, so over the last 5 years the XJO has gained an average of 4.46% per year.
Note: all the ASX charts (and the SPX ones below) can be downloaded by clicking the buttons below.
US S&P500
The S&P500 index ($SPX) gained 16.3% in 2020, recovering a record 71% from the March lows.
SPX Sectors
Technology ($XLK) dominated the US sectors in 2020, gaining 41.8% (on the back of 2019's 48% return). Consumer Discretionary ($XLY), Communication Services ($XLC), and Materials ($XLB) were the only other sectors out-performing the index (Rel% to SPX). Energy ($XLE) was by far the weakest sector, dropping 37% on the year.
Here's the 10 year stats for the SPX index and US sectors, showing the index has gained 11.5% per year for each of the last 10 years. Tech has dominated the last 5 years (gaining almost 25% each year) with Consumer Discretionary ($XLY) following at 15.5%. Over the last 3 years Energy has lost over 19% per year.
Download Workbooks
Clients can open the above charts in Optuma by clicking the buttons below and saving the workbook files. However, by default the charts and watchlists will display to the last date downloaded. Change the Date Range Property in both the price chart and watchlists from Everything to Date Range to only load to December 31st 2020. The chart and watchlists will then only use data up to that date and ignore 2021 data.
Darren Hawkins, MSTA
Senior Software Specialist at Optuma
Darren is the senior Software Specialist at Optuma. He joined the company in 2009 after attending an introductory technical analysis course. Darren now instructs users all over the world, from experienced Wall Street traders and professional money managers to individual traders drawing their first trendlines.
Darren grew up in the UK and attended college in the USA where he earned a BA in Economics from St Mary's College of Maryland. He went on to spend a few years working at the Nasdaq Stock Market in Washington DC. Going on to live and work in Australia, the US and currently the UK, Darren has a broad understanding of the individual needs of traders, portfolio managers and investors utilising a wide range of methodologies.
In 2014 Darren passed the UK-based Society of Technical Analysts diploma course, and when not looking at charts he keeps a keen eye on England's cricket team - especially if they are playing against Australia. He lives in the Essex countryside in England, with wife Wendy and their labrador, Gabba.