Optuma Installation Guide
Thank you for your interest in Optuma. This page will take you through the process of:
Testing your system to ensure it meets our minimum requirements.
Downloading the Optuma Setup file.
Installing Optuma.
If you have any questions you would like to ask before installing Optuma please submit a support ticket here and we will get back to you as soon as possible.
System Requirements
Before downloading the Optuma Setup file please ensure that your computer meets the system requirements.
Optuma may install and run on systems with specifications lower than those mentioned, however we cannot guarantee the speed, or stability of all program functions. Support for systems not meeting the minimum system requirements may be limited.
What about exising workbooks?
If you have a copy of Market Analyst 7 / 8, during the installation your existing work will be copied so that you can access the files in Optuma. Your original files will remain accessible in Market Analyst 7 / 8.
CPU
Intel i5 2.8 GHz or AMD equivalent
Memory (RAM)
4GB – More allows for bigger portfolios to be monitored.
Hard Drive Space
50MB – 1GB (Depending on exchange data used)
Operating System
Windows 7/8/10 (64bit). Contact support if you need 32bit edition.
Video Card
Nvidia Geforce (Series 8xxx or higher) ATi Radeon HD (Series 5xxx or higher). Minimum of 512MB of dedicated memory.
Monitor
LCD/CRT capable of displaying at 1280 x 1024(Wide screen LCD monitors are highly recommended)
Internet Connection
Fixed Line or Wireless Broadband
Optuma System Requirements Test
If you are unsure of your systems current specifications you can perform an automated check by downloading and running the Optuma Requirements Test program.
When using the System Requirements Test the following information will be collected about your hardware configuration.
Operating System Version
Central Processing Unit (CPU) Type
Total Random Access Memory (RAM)
Video Card Model
Total Video Memory
Current Screen Resolution
OpenGL Version
OpenGL Extensions Capabilities
To get more information about why a particular test may have failed or scored marginally simply click on the "Help" button at the end of the test.
Optuma Installation Video
This is particularly useful for current clients as it shows how your existing work is converted to the new format during the installation process.
Installing Optuma
Once you have downloaded the Optuma Setup file, you can begin the installation.
Click on the download button to the right and save the Setup.exe file. Once downloaded (usually to the Downloads folder on your computer) double left-click on the file to begin the installation.
Where you'll find the installer just downloaded
In the window that opens, left click on the Next button.
Read, and agree to the Terms & Conditions and click the Next button.
We recommend that Optuma be installed in the default Program Files location so click Next, but you can install in another location by clicking the Change button.
To save the data to the default location (recommended) click Next. To save elsewhere click the Change button.
Note: If you have Market Analyst 7/8 already installed on your system, Optuma will use the same data set by default and the installer will skip over step 5.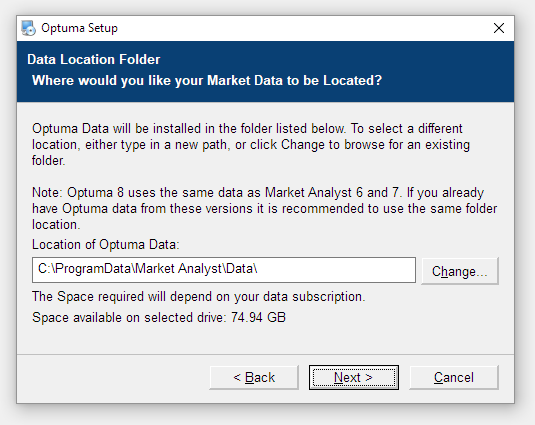 Select a Shortcut folder and select whether Optuma will be available to all accounts on this computer, or the current account only. Click the Next button to continue.
Confirm the final details, and click the Next button to begin the installation process.
The files required to run Optuma will begin installing on your computer. Once the installation process has completed, click the Finish button, and you will be taken back to your Desktop.
You can open Optuma via the new Shortcut available on your Desktop.
Forgot Your Login Details?
To login into Optuma simply enter your Optuma username and password. If you have lost or forgotten your details you can request a new password at the Optuma splash screen.
Getting Started
Now that you have installed Optuma, click the button to be taken to the Getting Started video course.