Weekly Sector Report – Week Ending January 12th 2018
Australia – ASX 200 Sectors
The second week of 2018 couldn't sustain the gains made in the first, with the S&P/ASX200 Index ($XJO) giving back the 0.9% he week, despite making new 10 year highs on Tuesday. All sectors currently are showing short-term weakness, with downward-sloping daily Gann Swings, with only three sectors gaining on the week: Materials ($XMJ, +0.8%), Energy ($XEJ, +0.2%) and Telecoms ($XTJ, +0.2%). Consumer Discretionary ($XDJ), Consumer Staples ($XSJ), and Industrials ($XNJ) all lost more than 2%.
On the weekly Relative Rotation Graph® Materials continues to show its relative strength as it crosses back in to the Leading quadrant, where all the current members – including Energy – are showing a loss of momentum as they start to move south. Telecoms continues to move positively through Improving as it recovers from long-term lows.
US – S&P 500 SPDR Sectors
The US markets shows no sign of slowing down, as the major indices closed Friday at all-time highs. The S&P500 Index ($SPX) gained another 1.6% – that's over 4% in the first two weeks of the year. On the back of oil's gains, Energy ($XLE) had its third +3% weekly gain in the last four weeks, and Consumer Discretionary ($XLY) with back-to-back +3% gains. The slide in Utilities ($XLU, -2.1%) and Real Estate ($XLRE, -3.3%) shows no sign of slowing: they are the weakest sectors by some margin over the last month.
On the weekly Relative Rotation Graph® both Consumer Discretionary ($XLY, +3.1%) and Energy continue to move positively in the Leading quadrant, which has just been joined by Industrials ($XLI, +3.3%). Obviously Utilities and Real Estate are heading deeper in to Lagging and should be avoided, but Health Care ($XLV, +1.8%) continues to move sharply north.
Europe – STOXX Europe 600 Sectors
The STOXX Europe 600 Index ($SXXP) recovered from mid-week weakness to continue the positive start to the year, closing up 0.3% on the week. Financials ($SXFINP), Oil & Gas ($SXEP) and Basic Materials ($SXBSCP) all gained 2%, with Technology ($SX8P, -1.7%), Telecoms ($SXKP, -1.7%) and Utilities ($SX6P, -2.4%) dragging the index down, with the latter two sectors being the only ones negative so far this year.
On the weekly RRG, those sectors on the right of the chart continue to lose relative momentum as they move south. Consumer Goods ($SXCGSP, -0.9%) crossed in to Lagging, almost crossing paths with Financials as it moved up towards Improving. Health Care ($SXDP, -1.7%) just managed to cross in to Improving, with Consumer Services ($SXCSVP, -0.6%) just falling short of Leading.

Currencies – Daily Forex Relative Rotation Graph®
The US Dollar Index ($DXY) fell 1% this week to break 91 to set a new 52 week low. The strength in the G10 currencies is obvious as many have set new long-term highs against the $USD this week, including the Euro $EUR as it reached 1.21 for the first time in 3 years. Strong commodity prices are causing relative weakness in the Canadian ($CAD) and Aussie ($AUD) Dollars as they move south in the Leading quadrant.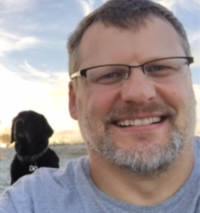 Darren Hawkins, MSTA
Senior Software Specialist at Optuma
Darren is the senior Software Specialist at Optuma. He joined the company in 2009 after attending an introductory technical analysis course. Darren now instructs users all over the world, from experienced Wall Street traders and professional money managers to individual traders drawing their first trendlines.
Darren grew up in the UK and attended college in the USA where he earned a BA in Economics from St Mary's College of Maryland. He went on to spend a few years working at the Nasdaq Stock Market in Washington DC. Going on to live and work in Australia, UK and currently USA, Darren has a broad understanding of the individual needs of traders and investors utilising a wide range of methodologies.
In 2014 Darren passed the UK-based Society of Technical Analysts diploma course, and in October 2017 passed Level 2 of the CMT Program.
When not looking at charts, Darren keeps a keen eye on England's cricket team - especially if they are playing against Australia. He recently moved to Charlotte, North Carolina with wife Wendy and their labrador, Gabba.